Spirit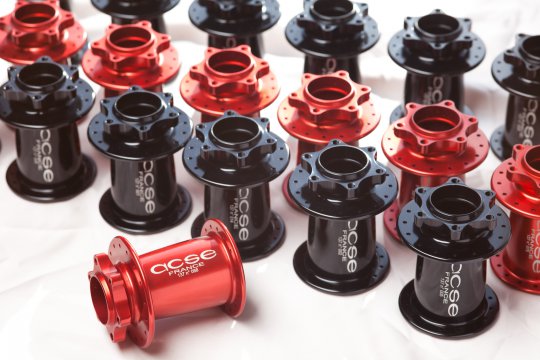 Ethics
Some companies manufacture their item in countries with low labor costs. Some of them even buy their generic hubs on catalogs. At ACSE, we produce our hubs in France. During the production of our items, we try to reduce as much as possible the negative impacts on the environment thanks to a recycling program for the greasing waste, the cutting oil and scraps. Our hubs and bearings are produced in the same geographic area. Only less than 0.5% of the hub weight is not produced over this small area. Furthermore, these components seals and springs are made in France. These very few pieces are shipped by mail to limit CO2 emission as much as possible.
Hubs
Our hubs are designed to provide the best performance. For instance, our axles are conceived to be particularly rigid. What is the point to reduce the weight by couple of grams, if it is at the expense a performance ability ? It is within that framework that ACSE hubs have been conceived with such a unique design. Our in-house machining aims to fit perfectly with the variation of the external form, whereas classic hubs have their inside part pierced at a constant diameter. Thanks to our shape and thickness optimization, we increase rigidity and reliability, despite the very light weight of our product.
Our pieces are made with 7075T6 aluminum CNC, which is used in car racing, aeronautics, and space fields. We use specific steels for some parts of the freewheel pieces. Specific thermal treatments lead us to reach the best quality and robustness mechanical features.
The polishing step is another example of the care we take to our production, as this process is done manually, to insure the highest quality.
We apply to our bearing manufacturers very strict requirements. Each detail is carefully thought and optimized : our materials, treatments, functional liberty, lubrication, and fill rate, and waterproof seals designed to reduce frictions and avoid intrusion. After a short running-in period, our bearings have a great fluidity in unladen or laden situation. Moreover, they provide a very high level of reliability.
The freewheel mechanism is based on a system of toothed crowns in opposition ; it has 36 notches. The freewheel bodies are compatible with Shimano 11s, Sram XD or XDR, or Campagnolo 11v cassettes. These basic and robust models are easily interchangeable. They also ensure your ACSE hubs to fit with all the changes you might do on your bike.
Wheels
We have only one goal, which is to improve the efficiency of your wheels. What is our way of doing it ? Thanks to an optimized geometrical design of the hubs, we are able to reduce the inertia by choosing lighter rims (without loosing ridigity or reliability).
The hubs are the core of the wheels. They manage their dynamism. What is the point to have a light hub, if it is a little bit rigid, or have only a poor geometry design ? Because we hate the "sanitized" material, the ACSE hubs help you to have an exceptional liveliness.
The geometry of hubs is a point, which is often neglected. Eventhough, it an essential feature. A poorly optimized hub will not lead to a rigid wheel. By moving aside the flanges at their maximum level, we improve the "umbrella shape", which are done by the spokes. Your wheels have then a better ridigity and are much more stable over time.
At the limit of the reliability range based on your practice, you may choose some lighter rims without loosing any piloting precision or reliability. The rim weight is the most important factor of wheel inertia. Our hubs reduce wheel inertia, without loosing over the other parameters.
Welcome @ACSE Parts.